---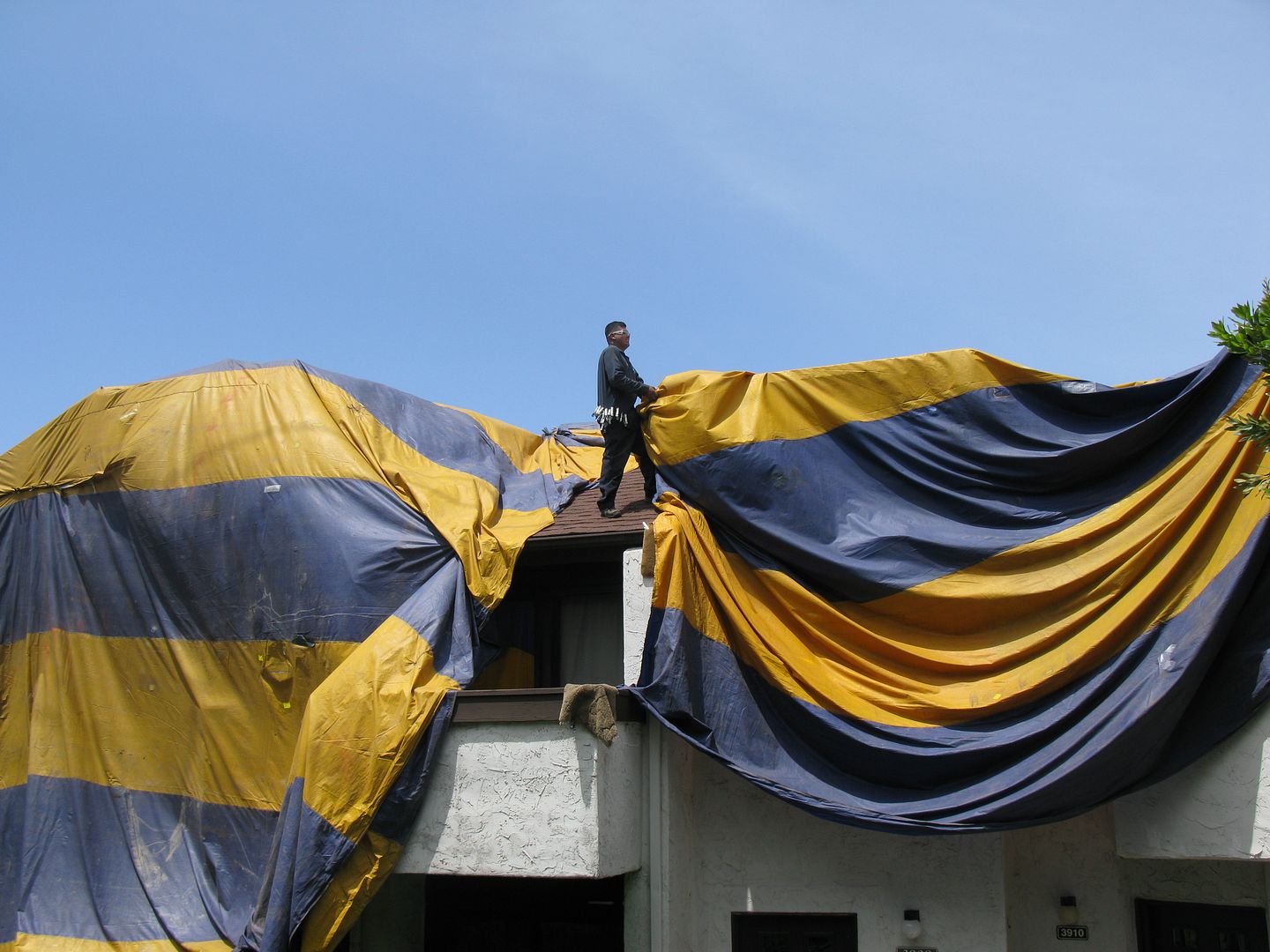 It's really interesting. Fascinating, actually. It doesn't take long for them to get the buildings ready. In our complex, they are doing two long buildings and a short building each day. Rows of trucks pull up on the inside street, and a large power lift is loaded with bundles of tarp.
While this is happening, a man is working along the side of the building behind the plants clearing a space so the tarp can be sealed against the ground. Rolls of heavy weights are placed on the sidewalks, and there's a warning sign placed on every doorway. Small pieces of carpte are attached at the corners so the tarps won't rip.
The men up on the roofs load the tarps over their backs. They are called mules. Piercing whistles signal their actions as well as a yell or two. Today the wind was blowing enough to make these colorful tarps act like sails. The men on the ground as well as the mules on the roofs had quite a struggle. I was able to capture some of the movement, but not the yells or whistles.
Himself:
He carried the last of the boxes down, and we left by five thirty. Moved in to our motel room, discovered we lacked and item or two, and used one of our dinner coupons for dinner before going back to the house. He spent the rest of the evening struggling to get his work computer to accept the wireless. The other two computers work fine.
Herself: Tried to stay out of his way. Had a lettuce wrap cheeseburger for dinner. Carried light boxes in.
Reading: I brought 5 Mrs. Polifax books with me to read.
Gratitudes: That we made it ok. He's off to buy a wireless adaptor this morning at nine.