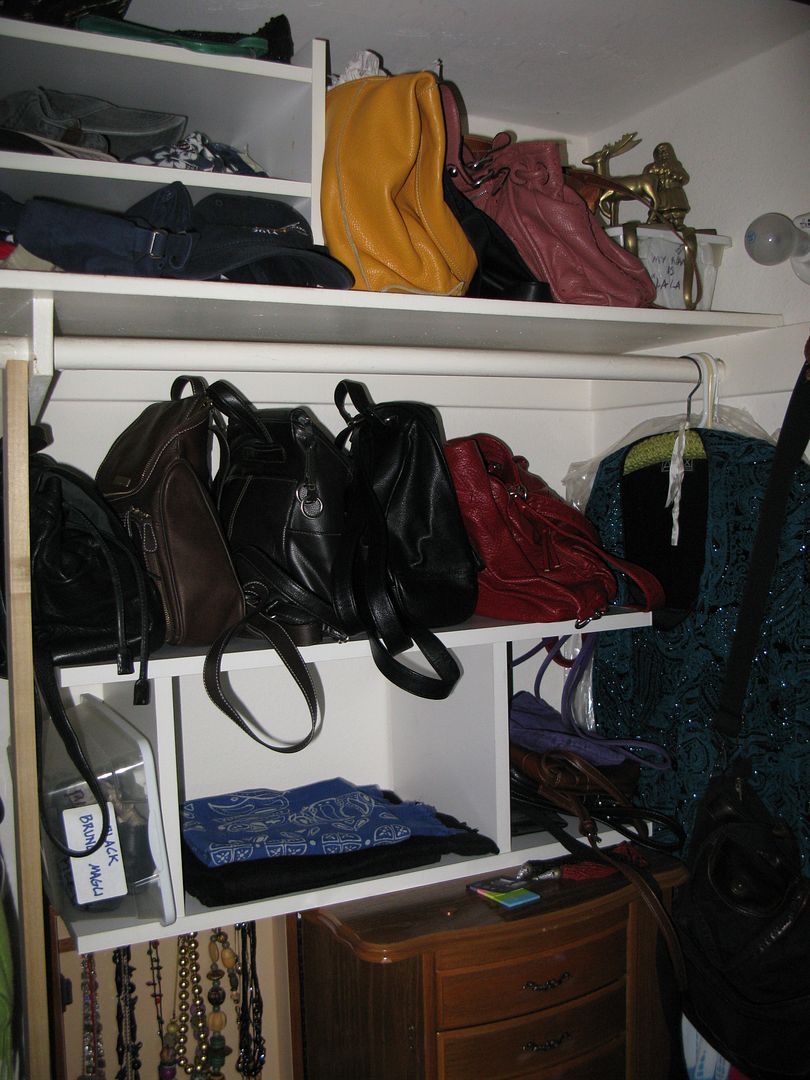 I had a most interesting experience yesterday. An expert in closet reorganization redid my closet and my wardrobe. She's just here from Australia, and she wants to start her own business reorganizing wardrobes. I'm a test subject.
It was fascinating. She took everything out of the closet and sorted into piles by how I used them: dress, work, pool. I should have taken photographs. She did. If nothing else, I should have photographed the reject piles of worn and stained clothing. She was pleased that I had already "colorized" the hanging pieces. Then twenty or more pieces were bagged and out the door.
Next she began suggesting clothing combinations that would modernize me. I must admit I wouldn't have thought of many of the combinations. When she was done, she took the photographs home to make an online photo book from them to show to her new clients. To me too. The only color suggestion she made was to add a bright orange or two.
She did my scarves, and she rejected the two vintage pieces I own. I kept them. She did do the shoes, and she took the worn ones away with her. She didn't do the purses…I had eight mostly backpacks. I did the underwear drawer this morning after I sorted and stuffed the purses.
Thanks to the photographs she took, I will be able to duplicate some her ideas. Maybe I will get George to take a picture or two of me in my new combinations.
---
Himself:
Gym, work, amused at me, glad it's Thursday.
Herself:
Cleaned out drawers and one side of my closet to complete that project. Picture hanging next. Three new ones were hung wrong. I have to patch the wall too. Lunch, quilt. Store, dinner. Arm is healing.
Reading:
A really sleazy book about the White House occupants.
Gratitudes:
That I am here and getting things done.