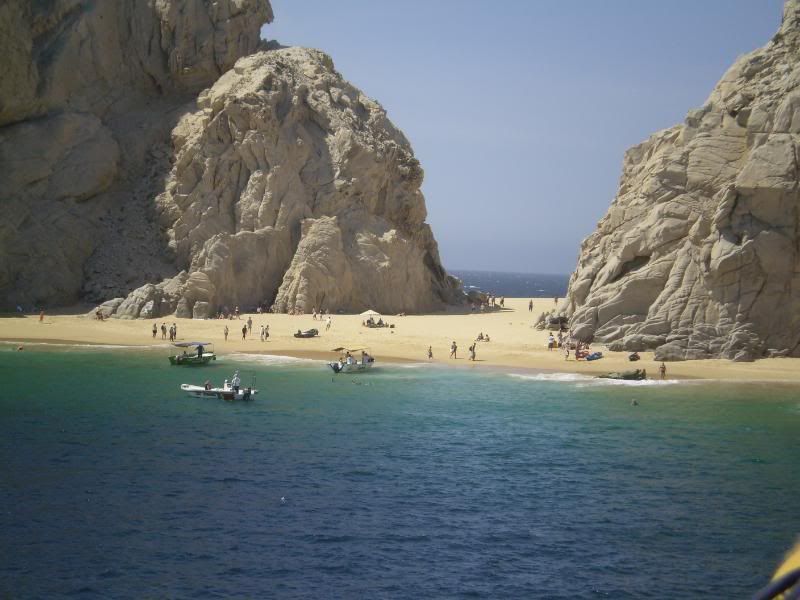 Cabo San Lucas, 2008.
Yes, that's right where I fell into the water with my favorite camera. Yes, I am still using that camera but now after an expensive repair. I love that glimpse of the Pacific Ocean from inside the Bahia San Lucas past the El Arco Monumental.
Today I'm planning on playing with some current photos and quilting more weeds for the bottom border. Nothing exciting at all…just a struggle. I was asked why I still quilted if it was such a fight for me to complete each block. It's because I passionately love the finished product.
Even though I cannot add or subtract beyond the 3rd grade level, I love the fabrics and colors. Sometimes I have to add extra fabric strips to make each block the same size. People think the strips are supposed to be there. I lost my hand-eye coordination in 1989, but if I doggedly stick to making a block work it gets done. Doggedly means taking something apart and sewing it back together again, and again…and again…
Buoyed by Bobbie's enthusiasms, I'm heading down to make a couple more blocks of weeds. Isn't each cornfield lined with a few weeds? Mine are simple stars.
Himself:
Working at his own job this week. SD Auto Museum Picnic on Saturday. We will probably take the 1950's Avocado/Grapefruit salad everyone likes so much.
Herself:
Got lots of children's books yesterday. Wonderful fun stuff.
Reading:
Another of Moon's space opera series.
Gratitudes:
Thought about running up the stairs yesterday.