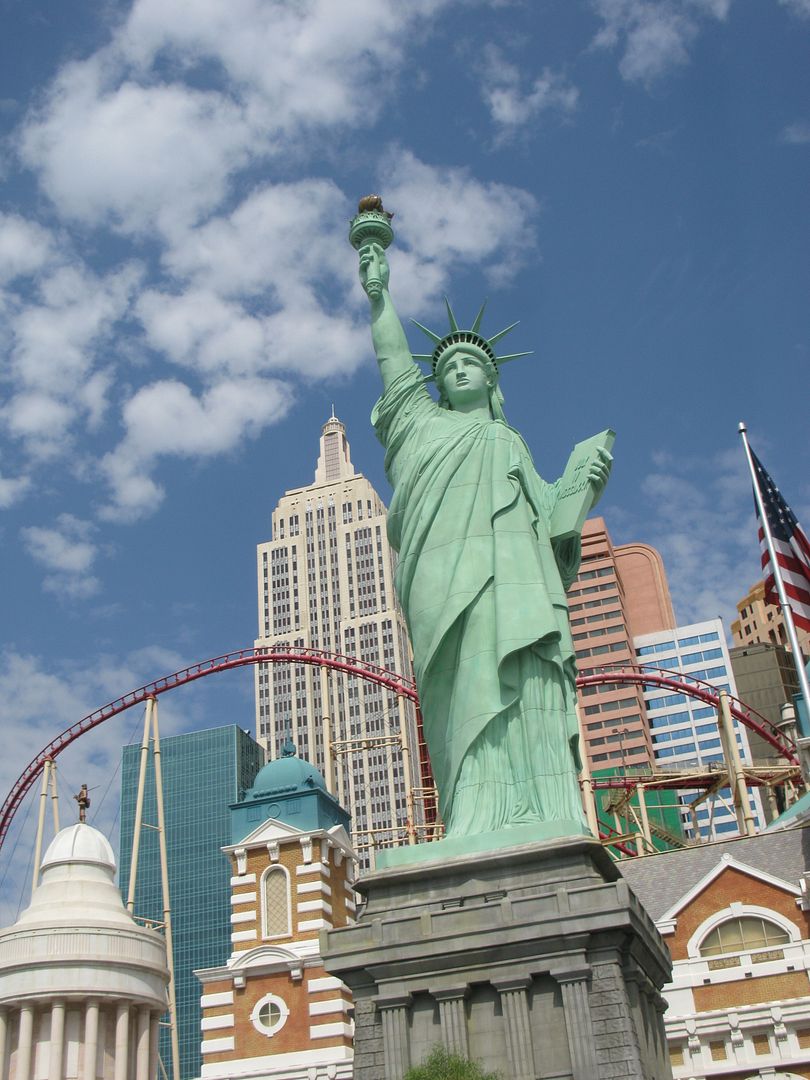 Hotel New York New York.
We flew off into the wild on Sunday noonish, and we returned on Tuesday evening. Once we got there, we had a ball. Once we got home, we had fun too. I don't think I'm fond of flying anymore.
We did Vegas on the cheap. Packed super light, flew "Spirit" economically, and got a $30.00 dollar a night room at the Rio off the strip. I know now about off season rates and one bag packing. If we didn't insist on bringing our own pillows, we could have done this whole trip without a bag.
What we did wrong? He brought two pair of pants plus shorts…he only needed one pair of pants. I brought one shirt that matched nothing while forgetting my sandals but I did bring one pair of shorts and one pair of jeans. What we did right? We came out even with everything else, and we ended up quite enlightened about lite travel. Best of all, we had fun.
The room at the Rio was palatial. The buffet was mediocre the night we saw Penn and Teller, but breakfasts were good. We ate appetizers for lunch. We ate a good dinner at the Mandalay Bay "House of Blues" the night we saw Cirque's Michael Jackson show. George wanted more circus, but I was happy with the whole show. He was jazzed Teller picked me to go on stage for the goldfish act. I was delighted, and never saw how it was done tho it was right next to my face..
G made a small profit at the tables and penny machines, and we met like-minded, kind people at a meeting out in the middle of BFE. We did cheat a bit at the start and end…we used a wheelchair. Oh, I could have done the many walks, but I would have had to stop and take many short breaks. Instead, we were wheeled right through the TSA lines and up to the loading areas. This little kindness was thanks to the ADA.
---
Himself:
Painted the kitchen today. It's been looking very travel worn.
Herself: Went to do books and found them all done. Straightened out the shelves and made it a book sale.
52 Week House Reorganization: The laundry area looks clean and useful now. I'm up to week 14: Organize your garage. It's bad.
Reading: I have one new mystery downstairs.
Gratitudes: That we had so much relaxation. That we came home smiling.