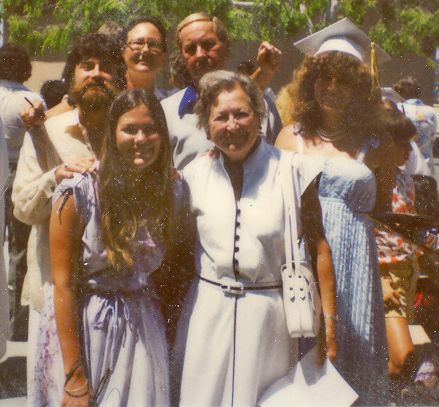 At Margot's High School Graduation. Frankie behind Laka to the left.
Christmas cards…I send few out now. My handwriting is illegible, and my hands grow very tired quickly. One of the cards I always send is to my old friend Frankie. That card came back yesterday.
After leaving my first husband, I ended up downtown babysitting an old Victorian owned by SOHO…Save Our Heritage Organization. Yes, I was mad as a Hatter, and I drank way too much. I also really appreciated having a home and a job at the same time. Since I didn't have a bed, I slept on my old white sofa in what was originally the dining room. Out that dining room window was the back porch of a tiny shotgun Victorian. A young man lived there, and we would wave at each other. Come summer, when all the windows were open to the breeze, we began talking.
His name was Frankie, and he became my support system. We played and partied together, we shared lives, and when the kids came back, he became Grandmama. I asked too much of him over the years, and after watching the kids grow up and my life become whole, he moved to Hemet then Boulevard far, far inland. We stayed in touch…lightly. He never missed my birthday with a card. He always sent a card for Christmas.
I hope I get a card this Christmas perhaps with a new address.
Himself:
He's on unlimited overtime. A new client at work has overloaded the system. Company party tonight.
Herself:
Coughing again. Feel good tho. Have to find something Christmassy to wear to the party. I worry about Mr. Perfection overworking.
Reading:
A Garbage romance….yes, I said that. LOL
Gratitudes:
That just today, life is pretty good.