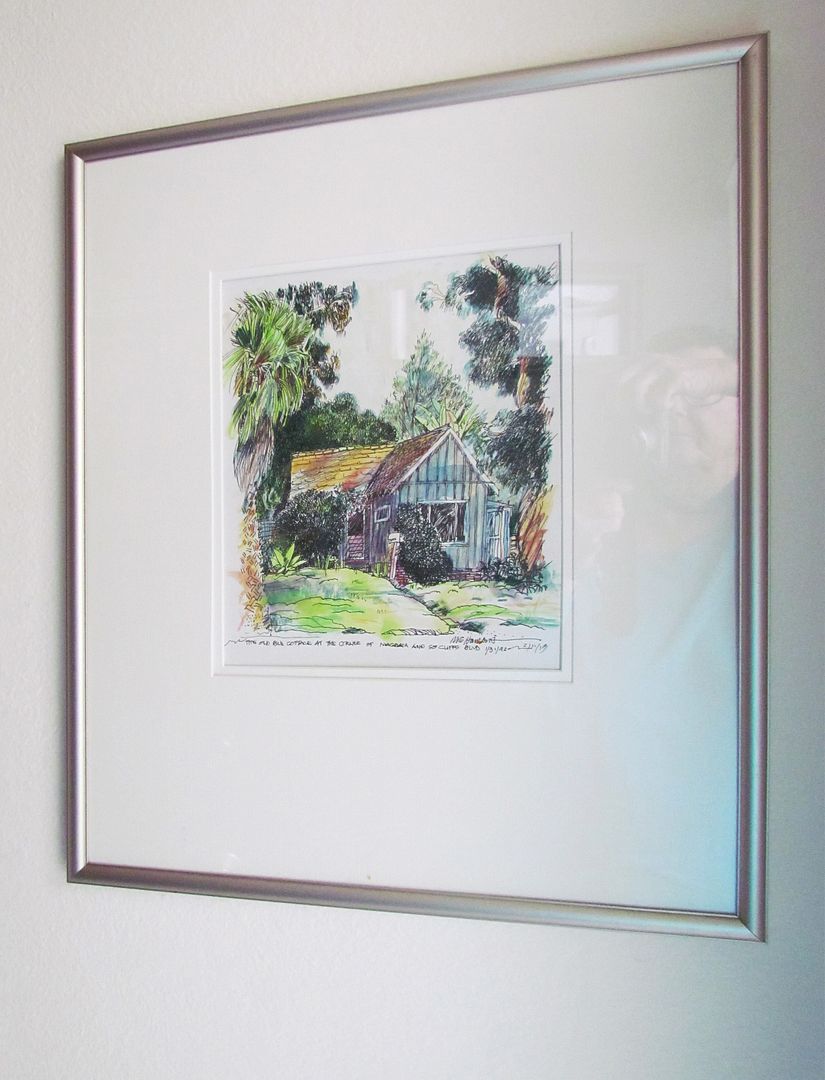 A cottage at the corner of Narragansett and Sunset Cliffs.
We used to live in a little cottage a tiny bit smaller than this one on Sunset Cliffs. I was then the proud owner of one bookcase….Grandma Maudie's old packing crate/bookcase. Much later I added another in the bedroom just for paperback books. That was it. Over the years, the books would double up and crowd themselves into messes, but there was no room to add more shelving.
Later in the big house, we had bookcases in every room. The floor to ceiling bookcase in the living room was 22 feet long. We happily filled it with science fiction. We did discard when we moved into this condo, but there were still masses of books. Before we moved in here, the only thing I asked for was a floor to ceiling bookcase in the dining area.
We are talking of moving again perhaps in a few years. We have way to many dishes…five sets in the kitchen. Worse are the masses of books that again crowd the other rooms. Yesterday I started sorting upstairs and discarded three bags from the mystery sections. I felt heroic until I started in on the style, décor, and quilting sections. Drawing, poetry and writing too. All I discarded was one book. That was it.
I have to be more ruthless.
---
Himself:

Helped with this next to last round of costume stuff. Spent the day quietly till a late afternoon business meeting.
Herself:
Reminder: Need to get hooks for the front of G's costume. Can start on mine now. Enjoyed a call from Margot at Disneyland.
Errands after lunch: Cleaners, library, shop with the books, straightened out the shelves post 50% off sale, bought buttons for my costume and hooks and eyes for his. Home.
Reading:
Continuing with and really enjoying "Katherine Graham's Washington"
Gratitude's:
That I'm finally starting on my costume.