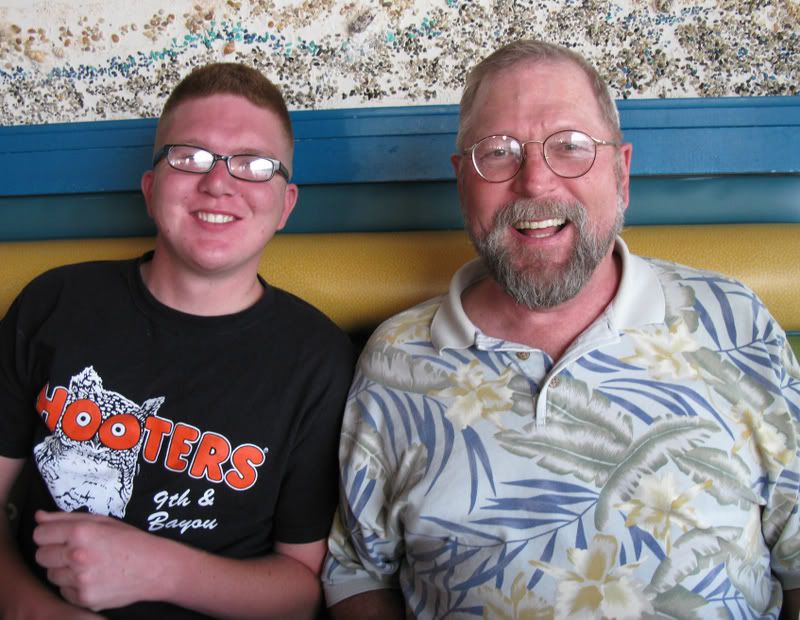 Aaron and G at Anthony's.
---
G: Singing. Trying to figure out how to go to nieces wedding AND vacation. We may have to postpone vacation a month or so to pick up two vacation days so he can do one, and we the other.

G'ette: Thought all night again. Calling doc, prayers for ThomaS and Marie's friend Terry with pneumonia that's getting worse, and working on the WPA Artists piece. Four pages double spaced.

Weather: Humid and grey at the beach. They say, some sun.

Menus: Yesterday Breakfast: Toast. Lunch: Deli sandwich and tiny piece of cake at Marie's 4th. Dinner: Homegrown tomatoes on a BLT. Heaven.
Life wasn't just in the fast lane, it was in the bullet lane. You have heard all this but sometimes that's ok, like Thursday when the results are winners….like my teeth. They are in great shape, hurrah. Or like Friday when volunteering for the Cancer Society was a success. Or Saturday when G signed up to volunteer at the Midway. I'm glad he found a spot of his own. And too, as icing on the cake, the one day we go to the ball game, they win. Amazing. They lost Saturday and Sunday….again.



Saturday: We took Aaron to Anthony's for dinner of his choice. He ordered the "Mama's Platter," a giant plate with a little of everything on it, as G did, but found he didn't like the calamari. G had carefully put off eating the shrimp till last knowing that Aaron loved shrimp. At the end they traded. G got all the calamari, but I know he loves shrimp too. Such a good guy. Desert was at Brian's where the usual giant desert was less than. We had been showing off the place and were disappointed. We left him on his way to play designated driver for two wheelchair bound friends who were drunk and needed a ride.



Sunday we had time to read the paper, dress comfortably, and drive in air conditioned comfort to a meeting in North County where the temp was 92 and the humidity was almost 100%. There Lenora met us with two other wonderful Marie friends, and we celebrated Marie's forth birthday. She was nervous as the person who had to stand up and share her experience, strength, and hope, and I was nervous as the person who had to stand up and say good things about the person whose birthday it was.

I'm not a believer in the person making the introduction also making a long speech about them selves. What it was like, what happened, and what it's like now should all be about the person having the birthday. G made a few suggestions, and I managed to remember them. G took a few grainy pictures, and we all headed back out into the heat.



Both my corpsman grandson and daughter Lenora, the family nurse, looked askance at my shin. If you are running a temperature, get it checked out said Aaron with an odd look in his eye. Marie just said call the doctor, you have a generalized staph infection. I can report that by last night the red had spread downward and around at an alarming rate even to me. I had to keep the leg out of the covers all night as it was too hot to live with. I'll be calling the doctor as soon as I can.
Marie at the podium very grainy.