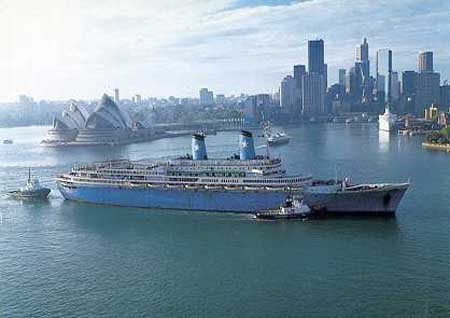 Simplon Postcard of the Achille Lauro
It's Monday Menu time here. As I shrink my planning, Jon on my Liners group posts this lunch menu from the Achille Lauro. Imagine…and with the stewards urging you on to eat more courses.
Juices - 5 kinds
Appetizers - Greek & Italian hors d'oeuvre
Soups - Chicken broth with vermicelli or Soup "Solferino"
Farinaceous - Macaroni with meat source or Risotto with peas
Eggs - Fried with asparagus or omelette with chicken livers
Entrees - sirloin steak; veal olives with polenta; chicken liver Venetian style
From the Grill - Trevisio Sausages
Vegetables - Buttered aubergines; mixed vegetables
Potatoes - Pont neuf, sautéed
Salads - Roman; Parmentier or Tomatoes
Ice-creams - "Singapore" cup; banana or raspberry
Desserts - Russian Cake, French pastries, Fancy biscuits
Stewed fruits - pears, pineapples & peaches
Cheese - assorted cheeses and crackers
Tea & Coffee
"And," Jon tells us, "if that was not enough, there was always the substantial cold buffet set up in the dining room."
Mother brought home menu's from her various cruises listing extraordinary foods like these with wonderful watercolor paintings on the covers. You can't bring home the menus these days.
This week here in Southern California:
Juice - V8.
Appetizers - Fruits probably bananas and apples. Maybe.
Soups - none in this heat
Farinaceous - Ragout of Bow Ties: lets be fanciful here.
Eggs: Not this week. They grow old in my refrigerator
Entrees - hamburger steak, baked potato, chicken, and the Ragout
From the Grill - nada
Vegetables - at least two a dinner
Potatoes - baked and salad for a picnic
Salads - Several Italian, potato, and green
Ice-creams - No, no, you can hear the cry, NO.
Desserts - We need something but I'll skip these
Stewed fruits - Not stewed fruits like melons
Cheese - No fat on sandwiches or Boboli Pizza
Tea & Coffee
No chicken liver Venetian style or veal olives at our house this week. No passionate, artery clogging Italian foods. There will be a twist of the simple and a twinge of the Japanese to our meals. The folks in Japan live vastly longer than we do. Usually. Then again, I'll add a touch of the mundane too.
---
Himself: Yesterday he dove into the Honey-do's. Today he's diving into the computers.
Herself: Delightful visit with R Sunday, and socialization with C today. I broaden myself by force. They both came here and loved the books.
Reading: A new library mystery.
Balance: Opening myself up again.
Olympics: http://www.nbcolympics.com/ Oh, I am so enjoying the brief glimpses I get.