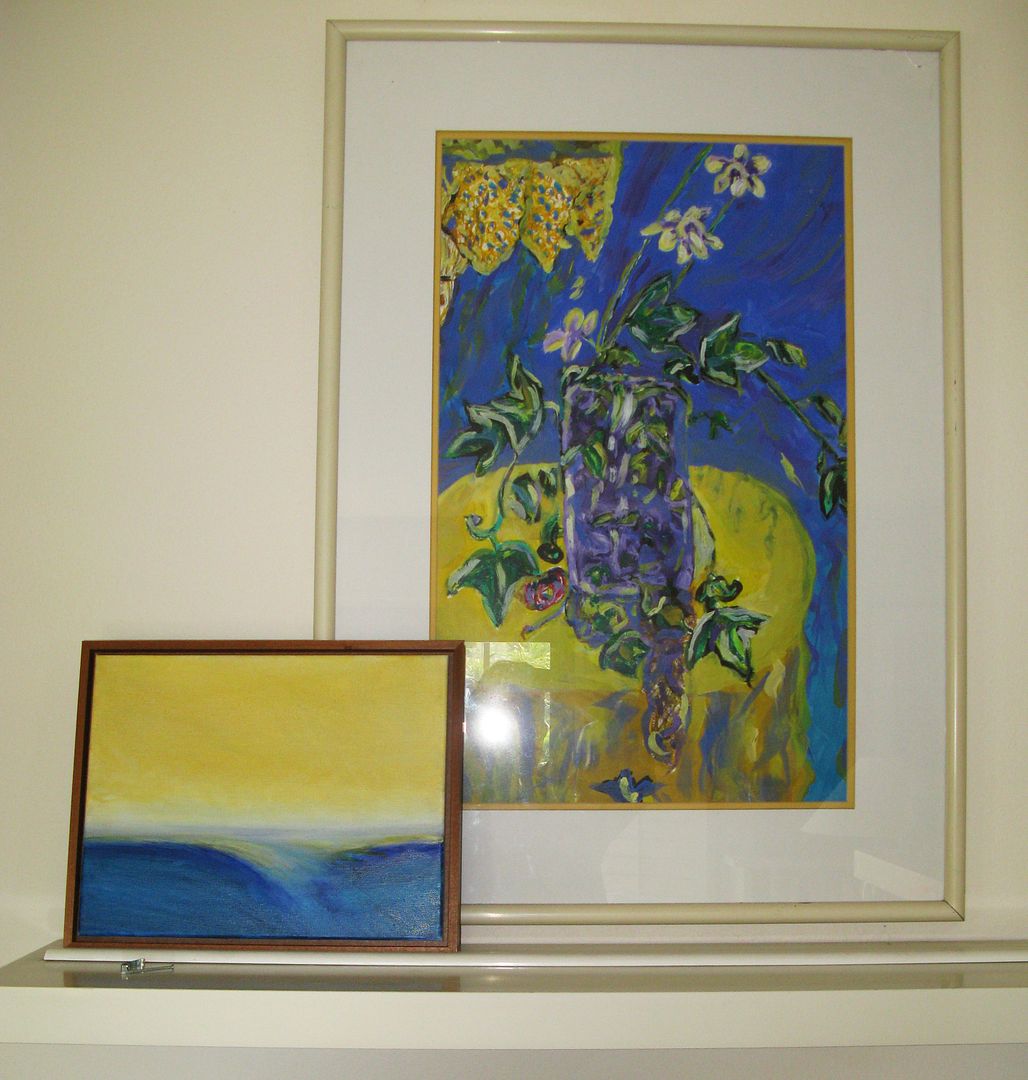 A view from my chair. Small: DeLlamas; Big: Hawkins.
Three days a week around eleven, I eat lunch at home from my wonderfully overstuffed chair. Perhaps a scoop of cottage cheese, mayo, and half an avocado. Proteins and fats instead of carbohydrates. I've spent my mornings rushing around even on the internet. Thanks to many of you, I have wonderful people I visit here.
I've been known to fall asleep with a snort and snore after lunch. My head bobs. I get a headache. Silly me.
Wednesdays and Fridays I take lunch with me to work. G packs me a sandwich…paper thin slices of homemade bread, meat, and lots of lettuce in a Ziploc baggie. That baggie is my key to eating and working at the same time. My work is dirty, and I don't want a dirt clogged sandwich while I sort or shelve books and clothes. Yes, I often stick my baggie in my apron pocket and grab a bite when I can.
Saturday's we have been having lunch at the Broken Yolk. For years we ate at Perry's, but the Yolk's morning foods seem less greasy. Yes, I feel guilty eating somewhere new. We have way too many breakfast places within a four block area: two Denny's, Naked Cafe, Perry's, Broken Yolk, I-HOP, a hotel restaurant, Swami's, a waffle place, and tons of fast food places. You would think somebody would have made a functional business plan before starting a breakfast restaurant in this very tiny neighborhood.
I confess. Pancakes were my favorite thing for years. No more. But I sure do remember them fondly.
Himself:
Playing games. Watching Netflix now that he has it working….so far on this three day holiday. I think we will find a hill top to watch the fireworks from. Nothing fancy.
Herself:
Finished two small star blocks for the bottom of the crow quilt. I figured out why I hate quilting so….every block is a failure when I have to take it apart three or four times. It depresses me.
Reading:
Rereading Elizabeth Moon's space opera. Even on this third reading since it was written, it continues to excite.
Gratitudes:
For being here and feeling so well. George…always.