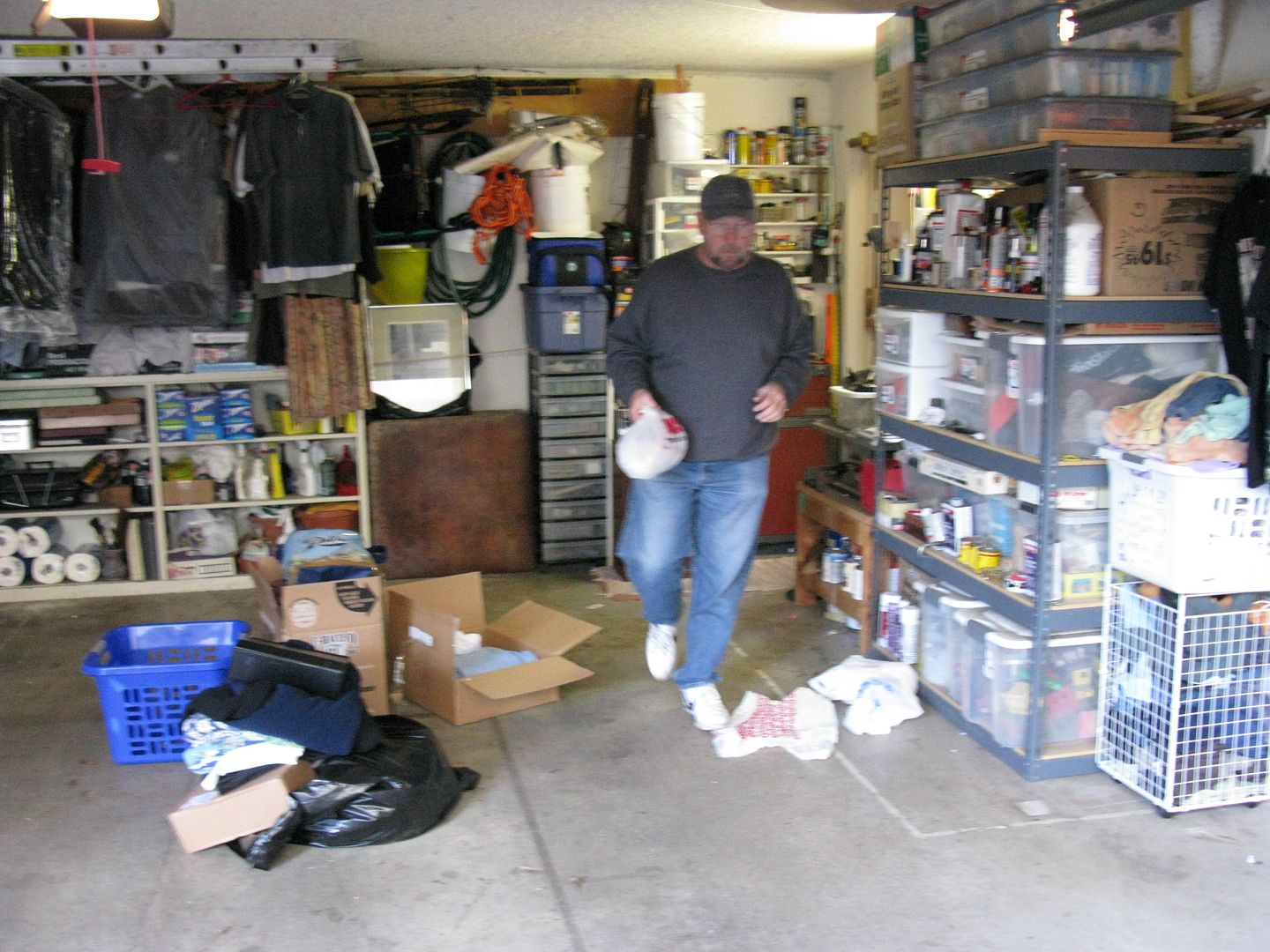 2008: the garage at its worst.
We, note I said we, labored in that remaining far corner of the garage. All the boxes of sketchbooks, photo albums, and boxes marked 'George' came out and were pushed to the side. Two years of tax papers, all wrapped and labeled by year, were discovered among the boxes. Never stored? Oh guilt. G helped me move the big art from in front of the filing cabinets. I filed the taxes in the tax drawer.
Both filing cabinets sit atop an old, heavy metal, military flat file. Which contains much of my art…roughs, layouts, designs, and thinkings on paper. I found a few drawings from my speedy mad years that had escaped their sketchbooks. (At least I continually drew all those years.)
Sitting in G's grandfather's old office chair, I went through those old files creating a mountain of papers around me. Here I thought going through the old sketch books would be traumatizing. Nope, those flat files held much of my art life….and it was with great joy I was reminded that I could really draw. I was delighted to see that I could build an ad too.
George pulled the giant, blue recycle bin over to me. While he went through his boxes, I threw out papers. I found nothing of my grandmother's there, but quite a few of mother's weaker works were. I kept the best of these, and I actually threw away some sketches she did. Acres of ruined paper and sketch board….into the bin they went. Mad drawings, ruined drawings, work of no merit. Poof gone.
Only two of the six file drawers now have something in them. Not a closure of the old life, but a making room for something new.
Now today, Labor Day, I go through the albums and sketchbooks.
---
Himself:
He's doing it closet today. Boxes yesterday.
Herself: Remembering to take before and after pictures of my piles. Having vastly more energy taking Vitamin D.
52 Week House Reorganization: Still in the garage, but I can see the end of this job.
Reading: "My Ideal Bookshelf," by Thessaly La Force. I'm fascinated by the readers thoughts and insights. I had thought it all boring when I first started. Now I would like to see a favorite list from some of you.
Gratitudes: That I can see how really well I could draw.