I've been taking a lot of photographs lately, but nothing artistic. "Editorial" be me. I've been getting in to work a little early each day, and I shoot whatever catches my eye. I post to Facebook every day for the American Cancer Society Discovery Shop/Point Loma. I envy my blogging friend Tabor her time outdoors or with her flowers.
I've shot a lot of dishes this week. The green IKEA ones amused me greatly as they are copies of Russell Wright's Iroquois pattern. I must say, I tried eating off the lime green plates. They didn't make it. I donated the bridge cloth and napkins under them. They look unimposing, but a closer look will reveal that they are all hand stitched…meticulously. Ah well, I will take them home if they don't sell.
This poor 1920's dresser is beyond tired, but it has all its drawers and mirror. I don't plan backdrops, I just use them as I find them. Here is a stunning black Mexican vase crossed by a charmer of a pool stick. "As is" the tag says, but I didn't stop to find out why.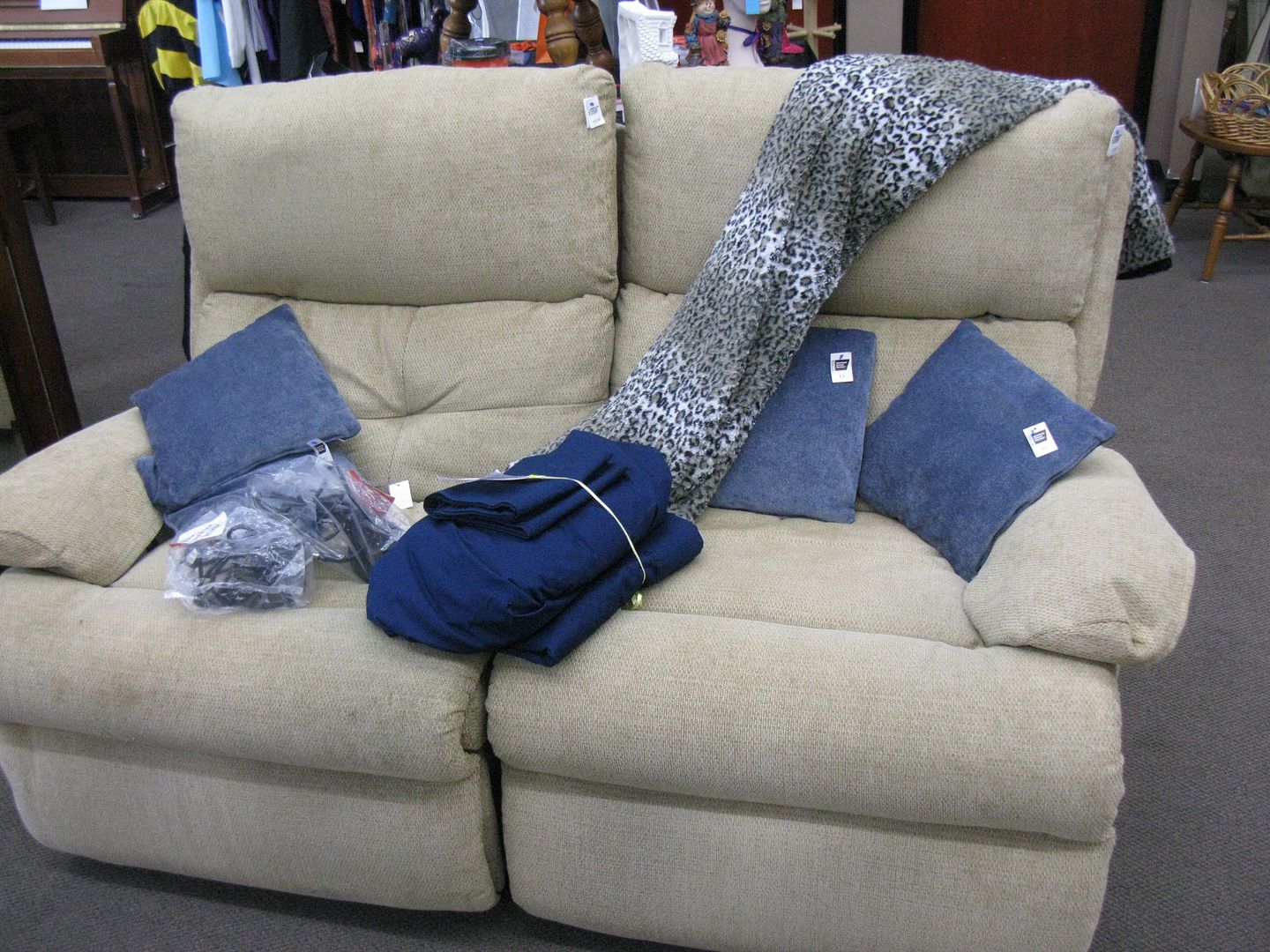 I featured this sofa today. Why for heaven's sake? Because I am tired of looking at it. There it sits, week after week waiting for a new home. Two new owners will be able to lean back with their feet up and enjoy watching the Cubbies win tonight. Why not. Would I own it? No. I have a big, white IKEA thing.
Although you can see my photos on Facebook every day, you will have to imagine what I am actually thinking about them.
For instance….that beautifully buffed black vase doesn't have a flat bottom.
Himself:
I suggested he finish cleaning out his closet. He put his nose up in the air.
Herself:
For a while I was forgetting everything. Most things have returned, but my vocabulary is markedly smaller now. I went to the Mingei museum yesterday, and all the shows looked new to me. I had forgotten that I'd seen them before.
52 Week House Reorganization:
Books…I have taken vast numbers of books to the store this week. As Duck used to say, "I don't have to take care of dead people's stuff."
Gratitudes:
That I can remember how to use my computer this week.