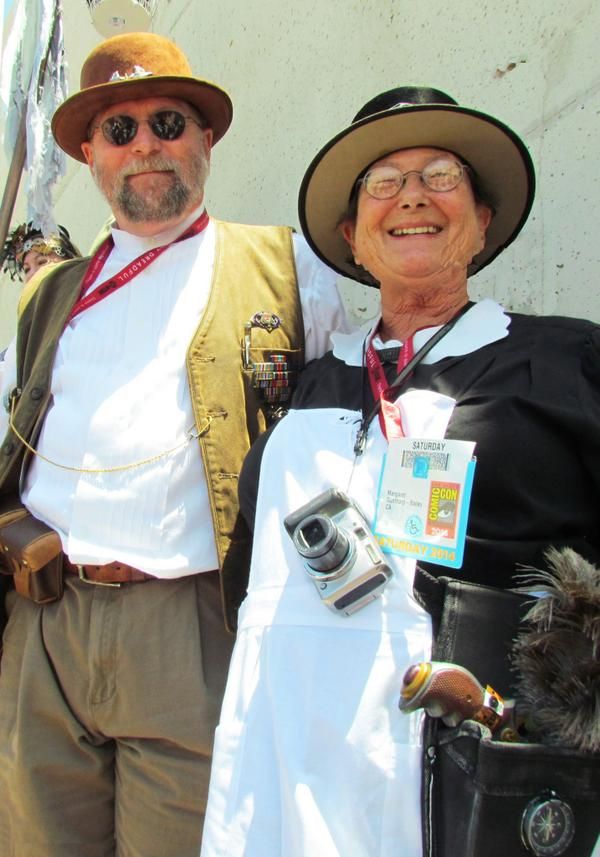 At Comic Con.
It's been a busy year here…filled with small trips, conventions, and volunteer work. We even had fun.
We mixed sickness with work and smiling. G had an inflamed stomach and the tag end of shingles. No matter what, we both went to the gym and pool almost every day. Even when he wasn't being healthy, he worked. He loves his job. Subrogation is a bit like playing with puzzles all day long. He was the literature person for a convention, treasurer for a big organization, and volunteer at the Automotive Museum in Balboa Park too. He also dieted his way back into his good clothes. Handsome man.
I struggled with a "Crow Quilt" all year that required more mathematical finesse than my brain owned, dieted semi successfully losing 33 pounds, volunteered as a backup printing person for a convention, and worked as booklady/sorter/Facebook person for the Discovery shop here. Every day I took fresh photographs mostly editorial things. As he began working longer hours, I took over the housfrau position at home. Those who know me well know I am the least housewifeish person around. Yes, I coughed through all of this with continual bronchitis.
Other adventures included the usual computer and photohost struggles. Mid-year we moved out for termite tenting. We also went to Las Vegas to see Penn and Teller….which produced a series of brief architectural articles. At the fair we had too much fun, we enjoyed the Spring Round-up, and we loved Comic Con where we also volunteered. Here and there we enjoyed Margot and Zoe too…especially for the Christmas Concert. Mage's biggest adventure all throughout the year was beginning to discard unused though loved belongings. Everything in every room got a good going through. Achooooooooooooo!!! And of course it all needs going through again.
Sometimes I feel that there isn't much we do. Obviously I am wrong. Except for the coughing, we have had a pretty good balance…and thank you all for being part of our lives.