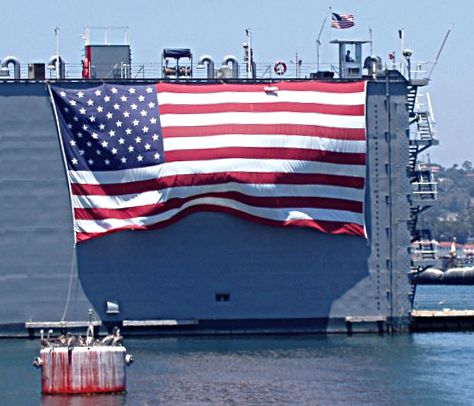 I had no interest in flags as photo subjects until I took this picture. The drama of a full sized garrison flag, that's the biggest one, on the side of a dry dock caught my attention. I was at a retirement reception on the local sub base and looked out the window. There it was.
Since that day, I have actively chased down flags that are doing things….drama in movement. My biggest problem over the years has been photo loss as my computers died. I've lost many, but this one was saved from an online source. It's small and fuzzy, but I have it.
Himself: Last night we semi cleaned the BBQ in a local car wash. It's been ignored for two years. Work way to early…little lunch yesterday. Next three days off. Going to a lecture on Russian cars tomorrow. Designing his Comic Con costume. Giving me token. BBQ later.
Herself: Sort of helped with the BBQ last night. I'm no longer useful at that kind of work. All the morning things. Class. Speech tonight…on how not to get sober. Thinking about not posting on weekends. Maybe yes, maybe no. BBQ later.
Reading:

Not done with "Journals" but it has to go back to the library. I have the "Residence" that I can read until my own copy of Schlesinger's book arrives. It's dry.
Gratitude's:

George, always George.