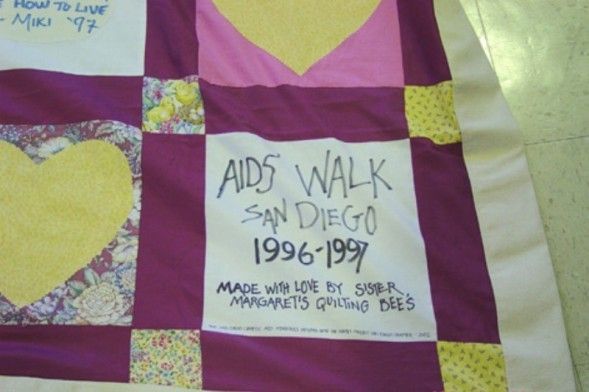 The Heart Quilt block made from an AIDS Walk signature panel.
Both G and I are pulling our hair out. Our server-owned modem is dead, and neither of us can get anywhere online. He's very frustrated as he works from home, and I am only half frustrated in small bites. A repair person from Cox is to be here today…a fact I will believe when I see it.
He can't take an alternate route, but I can.
We had a huge donation of books, many hundreds, all at once. Most are strongly conservative in their leanings, and many are very strongly anti Obama. Frankly, I put them out. Everywhere, thinking every book sold was another dollar for cancer research. There were so many I couldn't get them all out yesterday. The man who prices them for me didn't get them all priced on Tuesday either. We live in a conservative part of town. Perhaps some of them will sell.
I'll go price and tidy. Maybe even more will sell today.
On display at a Mama's Kitchen fund raiser.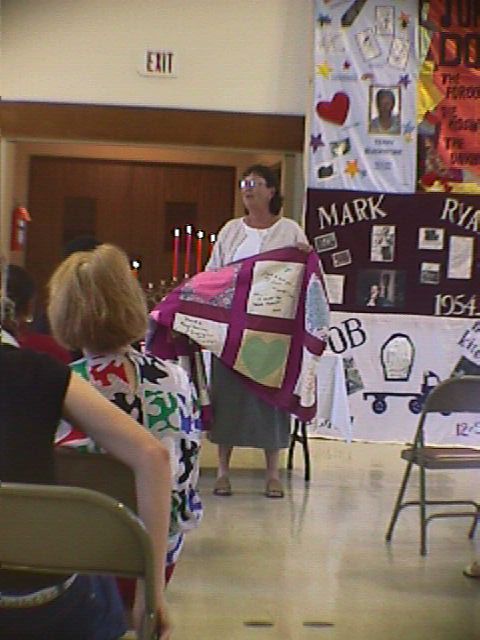 A much thinner me giving a talk about this quilt block.
Herself:
I got the AIDS Quilt pictures downloaded to Photobucket. Now running away to work.
Reading:
An interesting book on "Airforce One."
Gratitudes:
That I am feeling really pretty good.