---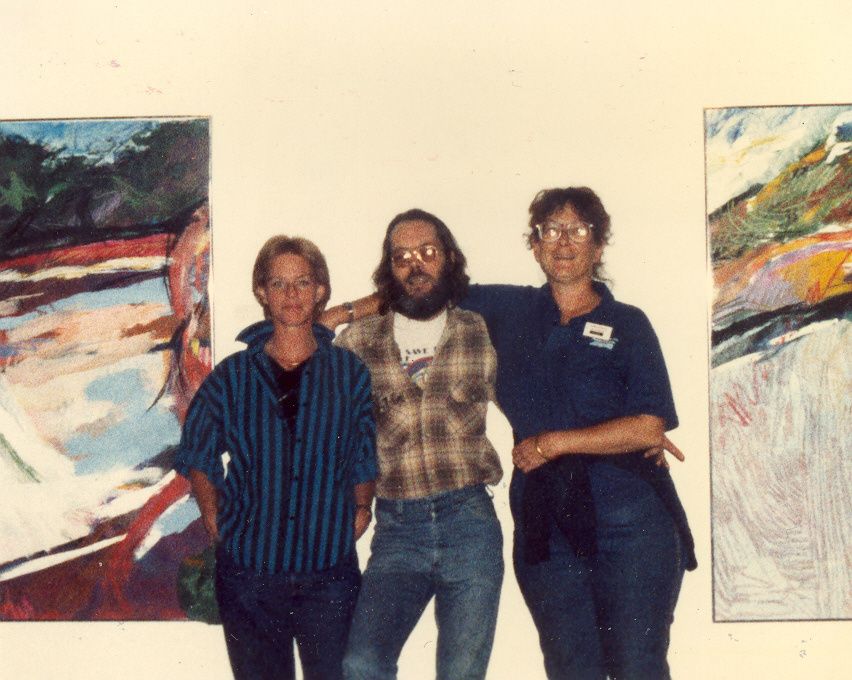 L. Tracy, Timothy, and Mage at one of the SDSU Art Galleries.
The doctor is pleased with me. Slowly the weight is coming off. In the 1989 picture above, I'm at the weight I am aiming for….178. I can hook pants now that I couldn't wear a year ago. Unfortunately, this last week of sedentariness hasn't exercised any more of that fat off. I've read and watched lots of Longmire. That made me a very happy person.
I didn't know a lack of vitamin D would cause muscle cramps. It takes forever to build it back up in one's body. Vitamin D isn't reacting well with my good old IBS, but many reactions to the lack of it are going. No more fuzzy thinking. I wonder if my mother was short on vitamin D too.
So now, at the start of the day, I can stand straight again. I can walk almost comfortably around the house…The pain has gone from a 10 to a 2 or 3. By the end of the day, I'm leaning forward a bit. No more crawling up stairs and mostly not using my walker. As of today, gentle exercises….I can do them in the water though…hurrah, hurrah, back in the water I go tomorrow. Liberating.
---
Himself:
Has been my rock. Got downstairs yesterday and discovered the kitchen was spotless.
Herself: Progress not perfection.
Reading: Nothing…but I will find something to reread.
Gratitudes: The pain is going, and I am moving beyond it.