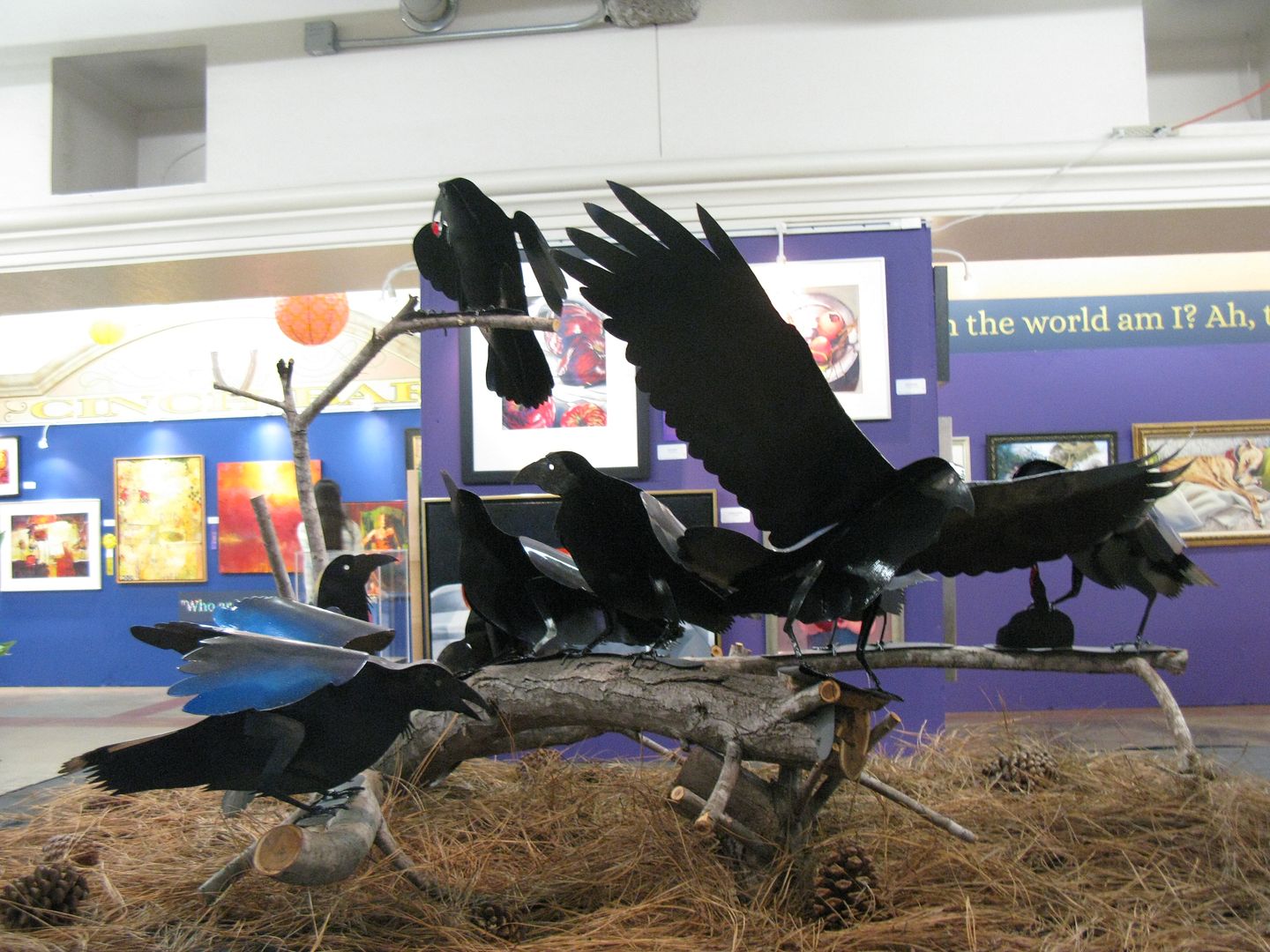 Torrey Pines Ravens; sheet metal; Roger DeWeese. NFS
Now the heat is gone, I'm looking forward to Summertime:
·
This Thursday of all days, the Automotive Museum is having an opening for their latest show of TV and Show cars. Poolie is ecstatic. G is really pleased as he likes Christine of Steven King fame. I like Kitt. She's that car that talked to David Hasseldoff.
·
Friday is the monthly BBQ by the bay. Charles fixed the not-working-right grill, and G should have an easier time this month.
·
Saturday is a catered 30th birthday party. WOW. That's a lot of sober years blessing a very quiet, shy man.
·
Next week we will be into July. On Sunday, my friend Katy will be here from Comptche up north. We met at Southwestern College in the sixties. We will go pick her up, visit a thrift store or two, and have lunch before taking her back to her cousin's house. I so like this real librarian and lovely human who does things like Burning Man.
·
The 4th, Bobbie and her new other half will be here for the fireworks. She's coming down early in the day with a load of goodies for the store. Combine two households and there are always lots of extras. We will have breakfast and hugs.
·
July 9th, Saturday, it's the Auto Museum Volunteer picnic. We always like that. I'll bring the 1950's avocado-grapefruit salad that was such a hit last time.
·
That takes us into July. G's already booked us to Vegas in August to see Penn and Teller plus a Cirque show…probably the Michael Jackson. The total, with air fare, hotel, and shows cost less than it would to take the Toyota in for new hoses and a refurbishment. Plus there will be no eight hour drive across the desert in the heat. With his luck, he will make everything back at the blackjack table.