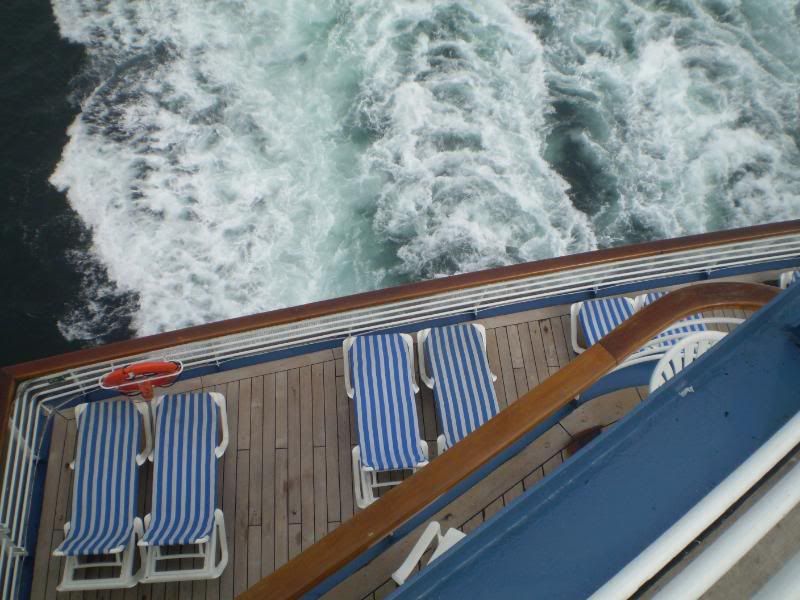 From the stern of the Elation, 2008.
He's got jury duty, and I am home alone.
Usually the first thing I do after a bit of the news is to update the ACS Discovery shop page. I hit the pool next. Two days ago, I burned a not-nice little line on my right arm. I tried going in the pool one day, and my whole arm turned pink and swelled. Didn't you really need to know that.
My friend Cammie remarked, "You don't know what bacteria is in that water."
We do know it's not ok stuff. My arm is testament to that.
Yesterday we went to a staff party at a new bar in Liberty station. (The old Naval Training Center.) They drank beer. We ate pub food. We ate desert too….and it was HUGE. I'll spend my day off today reading, feeling guilty, and reading.
When I look across the desk, there's no George there working hard. I hope he has fun today, but I miss him.
……………………………………………………………………………………………………………………………….
Himself: Caught the trolley to the courthouse. Update: He put the radio in and the short went away. Great sound and the clock now works.
Herself:

The center of the new quilt is done. I need to add the borders and go to Rosies to buy a very dark purple for the remainder of the quilt. Gotta make the backing too.
Reading:

Blogs, Kovel's antiquing newsletters. A Peter Robinson Brit-mystery too. I like it.
Captain Poolie:

Thursday:

Looking a little white around the gills last night. Perked up after her friend Pam fixed dinner. Doctor and board meeting yesterday. Scans. Doctors today. News is good but she is beyond tired from the steroids. They did give her 1000 times more radiation than they usually use too. Friday: Left leg very swollen now. Think it's a blood clot. More doc appointments today. Update: It is a blood clot.
Gratitude's:

I found myself just walking around saying "thank you" this morning.